Well that escalated quickly. What started out as a disappointing "team building" session with a game of charades quickly turned into a dramatic battle engaging in actual combat Batetemouda, the latest member to join the Pathogerm King's ranks.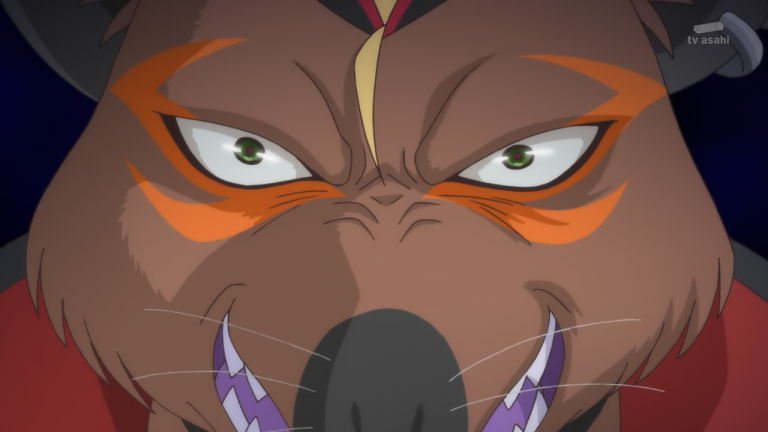 It was a welcomed surprise, and a much needed reality-check for everyone. It was so good to see Batetemouda actually pick a fight with the girls, because by doing so, it gave us a taste of just how strong the Pathogerm Generals are. Today it was 3 VS 1, and yet despite Batetemouda being the newest addition to the ranks, the girls were struggling to keep up with him. It took some coordination and team-work just to knock him off his feet, so imagine how difficult it would have been if it were one on one with any of the other three?! Let's be real here: They would lose.
And gosh, the girls are lucky he spilled the beans of that he was born from the Mega-Pathogerm they left too long on its own. It would be been very dangerous for them to continue without realizing the additional threat it poses to them. However what he had wisely left out was the circumstances of how he was born. The girls remain unaware of the fact a seedling parasite, that roamed across the city until it found itself a suitable host. It was also quite interesting to hear that he has been able to observe the Generals even before he was able to roam about.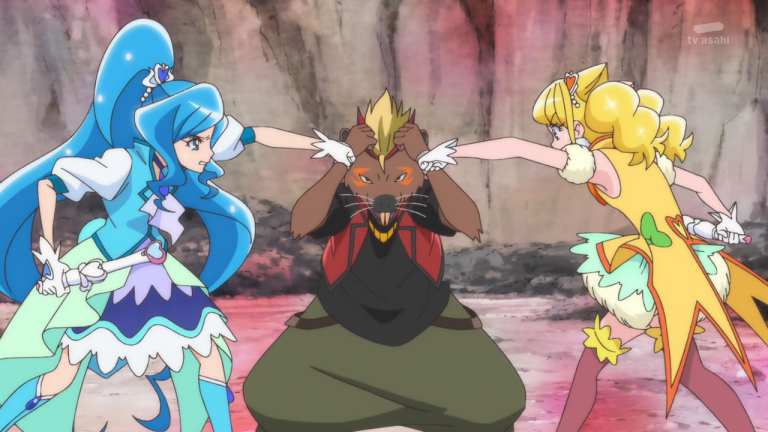 So you would think this whole incident would have made them realize playing games like charades isn't going to make them stronger. What they need to do is practice combat. They need to polish up some tricks of their own rather than hoping their power will be enough to carry them through the fight. Ideally, the perfect way to counter this would be for them to actually start coming up with more pragmatic strategies they can use in fights. I think the Trainees had the right idea with the whole unspoken understanding, but that is something that is something they can polish just by spending time getting to know each other better on their own time. What they actually need right now, is to find time and places to scrimmage with each other and experiment with their power. It is the best and fastest way to learn each other's strengths and weaknesses, and how they would be able to cover for each other, and ways they can make it work when they are forced to fight on their own.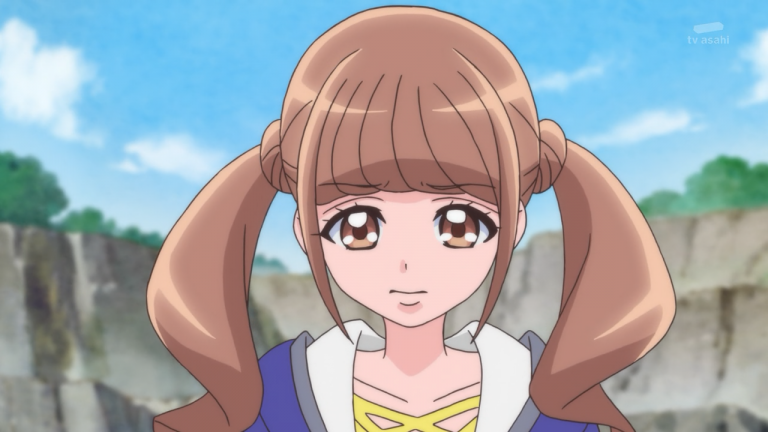 But based on how it ended, I'm not so sure if the message really got through their heads. Out of everyone so far, it seems Hinata is the one who is the most visibly shaken by how strong their opponents are (and justifiably so). Of course the other two could be putting on a strong face in attempt not let fear get the better of them.
It is also apparent how this new reality is hard for the girls to swallow. Not only are they are starting to realize their fights are going to be harder, scarier and more brutal going forward, but to hear that more of the likes of Batetemouda could follow is very intimidating. I think it is also fair to say, none of them fully understood what they were getting themselves into. It further shines on a spotlight on Rabirin's guilt of dragging them into this mess. Nodoka was horrified when Batetemouda was laughing about how much fun it is to fight. She can't wrap her head around it. Where is the joy of hurting others? The girls would much rather just focus on purifying the Mega-Pathogerms. Engaging in scuffles like this are exactly what they are trying to avoid at all costs. So it is only natural that fear is finally starting to take hold of their hearts.
But are the writers willing to dedicate an episode or some scenes to real training sessions? Honestly, I have my doubts. And I say that because I am trying to be careful not to build up too much expectations that would lead to disappointment in the future. (I think we all start getting all sorts of ideas in our heads when we are become invested in any series for that matter! Haha!) Of course it would be a of a shame if they don't find a way to make something more out of the situation the girls are in. It would suck to waste an opportunity where we can actually see the girls be proactive about becoming stronger, both individually and as a group. Certainly a proper practice session wouldn't hurt.
Needless to say, I am going to be careful of not getting too caught up in my own ideas and continue to observe how things will play out. I am absolutely in love with this series, I am so excited of what it has in store for us.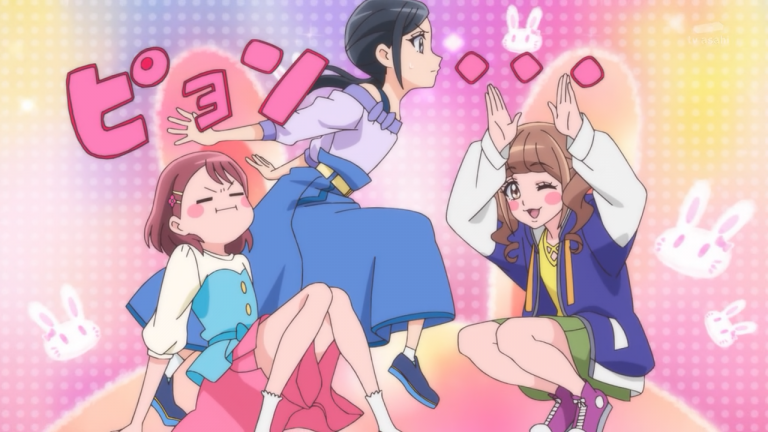 In all, although the training session had a silly start, it was still a very solid episode. Funny enough, the girls kind of had the right (albeit exaggerated) image of what they expected of a training session. It was so cute how excited Nodoka was, I almost wonder if she was secretly disappointed by how it panned out. On the side note: Rabirin's and Nyatoran's signals were waaaayyyy too long. Funny, but not pragmatic. I did get a kick out of them unintentionally providing a perfect example of what not to do when they fail to communicate with each other properly. 
Also, never leave the trainees in charge of the topics for Charades. They are way too complicated! The girls couldn't follow it at all! (Not to mention, it could be they equally suck at playing this game too, hell– I don't know where or how they got the idea Chiyu was talking about an introduction). But at least we have to give Chiyu some credit where it's due. Considering how ridiculous the subject was, Chiyu did a decent job with it. At least she managed to get the Mega-Pathogerm's part right.
As for Batetemouda, he is certainly here to stay, at least for a little while. Even though he is the newest addition to the team, he is quite a dangerous one due to his eagerness to engage in fights. I am looking forward to seeing how he and the other generals will mesh together since he has quite a lively personality.
Next week episode, it looks like we might just be seeing them run into yet another similar situation of multiple Mega-Pathogerms popping up in several different locations. And now with Hinata getting cold feet, we will have to see how the she and the girls will go about it.
---
04.24.2020 – UPDATE 3: CONFIRMED – Episode 13 will not be airing.
It will be running reruns starting this Sunday, April 26th, I am considering to pick up an old Precure series in its steed. The decision will be made on Saturday evening, so throw your suggestion in the comments below!
04.19.2020 – UPDATE 2: There appears to be a lot of confusion of whether Ep 13 is set to air or not. I don't know if they updated their notice, but based on what I'm reading, it looks like Episode 13 is NOT going to air. Their website says as of April 26th they will be running selected reruns of the episodes up to this point. (Frankly I'm just as confused, so I'm just gonna wait see if the episode pops up next week or not. This is making my head spin).
04.19.2020 – UPDATE 1: Q_____Q Precure is the latest series to be post-poned. GOD DAMN IT PATHOGERMS!!!!!!!!
As for those who are wondering about what these delays means for our coverages. Obviously if some of us find ourselves without any shows to cover due to the series being put on-hold, rest assure we already have some fun ideas how to work around it.
Since I have feared this would happen, I have been considering picking up a precure series I did not watch yet or complete. But it really depends on how long this will be postponed for. It's one thing to be until May 6th, but if the State of Emergency is extended, then maybe it'll give me enough wiggle room to continue it even when all the shows resume airing. Let me know what you guys think in the comments below. Are there any particular ones you would like me to cover? It's been a while since I watched some of the older ones, so I don't remember too much (though there are a few exceptions), but there's a few that comes to mind.
The 13th episode of the "Healin' Good Precure" TV anime has been postponed until further notice https://t.co/QX5hUE9KKB pic.twitter.com/DmIOhP6xQa

— A.I.R (Anime Intelligence (and) Research) (@AIR_News01) April 20, 2020