After some emotional episodes, it was nice to have a bit of a breather where my heart wasn't aching from start to finish!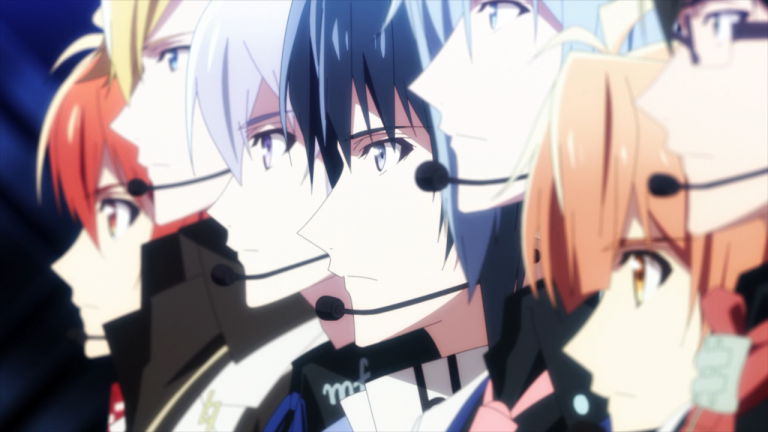 I can't tell you how relieved I am to see they were able to make a relatively seamless switch of the centers. It was clear the the move has removed a ton of weight off of Riku's shoulders, and it helps that the idea of rotation and that he'll be able to return to that place in the future once his condition stabilizes is a great compromise. Of course the decision wasn't any easy one, as Riku surely still struggles with not being able to meet his fans expectations of maintaining the position, but otherwise he understands it's for the best. On the other-hand, even though Iori had agreed readily to take his place, it seems he is the one who is struggling the most right now, and is trying his hardest not to show it. But I think everyone, including Riku understands that. That's why they are doing their best to show they have confidence in him. They were also incredibly fortunate that the fans were able to adjust well to the switch. It was clear there were some mixed confusions, but Iori has his share of charms and it's resonating with the audience.
However as Momo has wisely warned Tsumugi, as they grow more popular, the more difficult it will be to meet fans' expectations. It is the amount of love that they receive that becomes more overwhelming than the hatred they may face, and they need to start preparing how to cope with that.
Since the success of their switch and the launch of their new program "Lovely Night with You", the president decided now would be the best time for MEZZO to ride the wave momentum they have been able to generate by releasing a new single. However it appears the relatively smooth ride since the switch will soon come to an end. A storm seems to be brewing when Sogo and Tamaki by chance overhear how his family is now sponsoring TRIGGER's variety program (their direct competitor). The fear of them expanding their control into their network is a very real fear that I hope doesn't come to fruition because I can't stand how his family can be so petty about his career choice. Leave Sogo alone damn it!
There is also some uncertainty involved with how the incident when Tamaki's father was brought onto a show for the "grand reunion" has created rumours that makes various directors reluctant to work with him. Although Tamaki is young, he really needs to get it through his head that he can't always do whatever he wants, and he needs to show respect to his instructors. He needs to get a handle on his temper because it shouldn't be Sogo's responsibility to keep him in check. That being said, we also got to see how much they have improved the way they communicate with each other. Both of them now have a better understanding of how each other responds to situations, as well as their bad habits. These things are important for them going forward, and in return they can help each other grow because they offer balance to each other, Tamaki who is straight-forward with his thoughts, and Sogo keeping a cool head, even when things are tough.
They weren't the only ones with some drama brewing. Tensions and more hints about Yuki's and Yamato's history came to light this week, and I am absolutely here for it.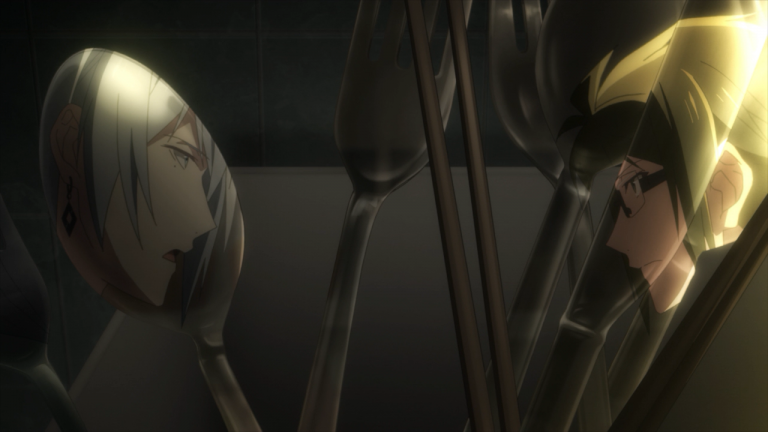 I am really glad to see Yamato's secret coming to light sooner than later. It is good to see Yuki looking out for him and the group. He seems to have a good understanding where Yamato's conflict stems from, and made a strong case in response to Yamato admitting he has decided to let go of his revenge to commit to helping make Idolish7's dreams come true. Yuki told him if he wants Idolish7 to succeed, the best way he can do that is to climb higher, and right now he has the opportunity to do that by accepting the offer to act alongside him for a major film.
And he is absolutely right, and Yamato and Idolish7 are lucky to have seniors like them looking out for them. Yuki even went as far to say RE:VALE will do what they can to protect Yamato from gossip, so use his prodigious acting abilities to his advantage.
And I must say, I am loving this relationship Yuki and Yamato have with each other. Maybe it's just me, but kind of feels like a brotherly bond. Perhaps it's because he has known him for so long. Either way, it is an understatement how invaluable it is for Yamato to have someone like Yuki who knows his full story because at a time when he doesn't feel comfortable of revealing his background to the team, at the very least there is someone he can confide with, even if he is forced into it. (But hey, with a guy as stubborn as Yamato, you gotta do what ya gotta do right?) It was also thanks to that we were able to learn that the flowers that were sent to them at JIMA (last season) was in fact from his father. Yamato however didn't take it as an endearment, but rather insult. Yuki likens it to more of lack of tact.
I am also glad Nagi properly confronted Yamato, making it clear that he knows his secret and how he tries to hide his connections behind his glasses. Yuki had pointed out how Yamato looks almost identical to his father when he was young, so I can imagine the complex behind that, especially when he hates the guy. Fortunately Nagi didn't pressure him or reveal the secret on his behalf, and instead asked of him to have more faith in them, which is was something that needed to be said. Interestingly enough, it appears Yamato also knows about Nagi's true background too, I am guessing it might have to do with his family's connections considering how famous his father is.
And lastly, there was of course Mitsuki. He didn't have much spotlight today, and feels like he is being overshadowed a tad more than I would like, but he is still being active. It is very encouraging to see people in the industry recognizing him for his talent, and even compared him to the likes of Momo who is considered a strong MC. And just as Nagi said, Mitsuki should have been praised of his talents sooner. (STAN OUR SUNSHINE!) but in light of this new recognition and personal pressure to meet everyone's expectations, I am a little afraid he must be studying too hard, and may forget how to act like himself in the process.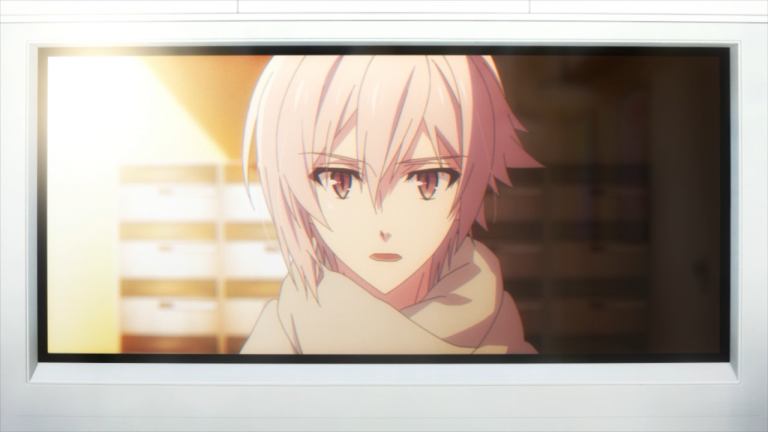 Next time, when Idolish7 returns it looks like we are finally getting the backstory about why Tenn had left his family! It has been long overdue for these two to have a proper a heart to heart talk about this matter. I am mostly curious about how Tenn will go about it considering how hard he was on Riku, and what his thoughts are on him passing the baton of center to Iori for the time being. It was definitely foreshadowed today with Momo pointing out how Tenn seems to have experience by being groomed from a young age how to handle all of these complicated emotions that many idols in the industry struggle to cope with.
We don't know when Idolish7 will be back due to the State of Emergency because of COVID-19, so until we receive news of its return, this coverage will now be On-Hold until further notice!
As for those who are wondering about what these delays means for our coverages. Obviously if some of us find ourselves without any shows to cover due to the series being put on-hold, rest assure we already have some fun ideas how to work around it. We will keep you up to date with what we plan to do!
---
UPDATE 08.20.20: Idolish7 S2 resumes Oct 4th starting at ep 3.
Coverage of the series will resume with Episode 5 on October 18th! 😀
See you then!
"IDOLiSH7: Second BEAT!" resumes broadcasting with episode #3 on October 4th. (Studio: TROYCA)

New PV: https://t.co/O7aFxBIYHz

HP: https://t.co/FBhEQzfmvL pic.twitter.com/K0toXlW0xT

— A.I.R (Anime Intelligence (and) Research) (@AIR_News01) August 20, 2020
---
UPDATE NOTICE: IDOLISH7 FANS, on 04/26, at 8:00AM EST | 5:00AM PST, there will be a livestream of the 1st LIVE!
The remainder of the "IDOLiSH7: Second BEAT!" TV anime will been postponed due to production delays brought upon the pandemic. A new airdate will be announced at a later time. The 4th episode will continue to air on April 19th as previously scheduled https://t.co/fQ0CKsHbDN pic.twitter.com/gswTIWVZiP

— A.I.R (Anime Intelligence (and) Research) (@AIR_News01) April 13, 2020