Whew, talk about a fast-paced episode! I am not sure if I like this or not, but it is kind of refreshing considering these type of shows have the tendency to have a real slow start.
We were introduced to a couple of new and familiar faces today. Starting off with the trio we briefly met last week, Kaede (the informant), Wakaba (the indecisive one), Hana (skilled artist, her dream is a secret). They know Yume well because they have been in in the same school and class since elementary. They are a funny bunch (especially Hana when something tickles her muse).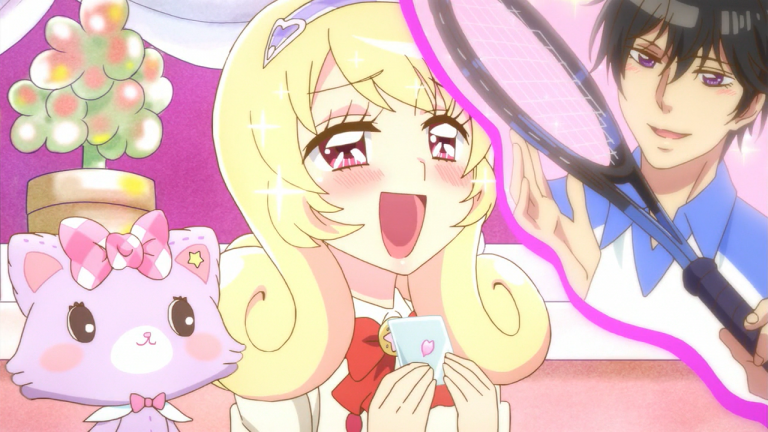 We then met handsome third year student Sugiyama Haruto. He is the captain of the boy's Tennis Club and student council president, also has a insane fanclub in his name. (What's even more wild is that it qualifies as a club activity despite him having no affiliation with them). Yume was quickly smitten by him when he helped her out get back with her class for the club presentation.
We also got to see how much of a scatterbrain Yume tends to be, as Asahi put it she has "no chill". She also finds herself in embarrassing situations due to her habit of thinking out loud. It was especially funny with how distraught she was over Asahi, her classmates and Hakuto potentially noticing Mew. It was also quite amazing how quickly she can shift gears too. One minute she's flustered, the next she could be distracted by cherry blossom petal. Can't blame her for being charmed by him. 
It was cool to see that Yume and Mew can use the power for their own benefit. When Yume was torn over which club she wanted to join, they used the power to undergo a "club-trial" of a sorts, which was a really clever way to help figure out where her heart was at. As a diehard fan of Kaijikazawa Alice's series "Cheer-Ciao", she was inspired to join the Cheerleading Club, but after being charmed by Hakuto, she was suddenly tempted to join the tennis club. So using Dream Syncro, she gave it a whirl and quickly understood she was better off sticking with the Cheerleading Club. It was also a nice touch to have Mew point out as long as you try your best, it doesn't matter what motivated you to give it a shot. I thought this was valuable because what she said is true. The whole thing about Yume showing interest in the tennis club because of Hakuto may seem like stupid and shallow reason to some, but even if she did join, as long as she gave it her best efforts, she would still learn something new, and it could evolve into another thing to be passionate about.
Although there was no particularly mischief today, we did see the little troublemaker make a brief appearance in Yume's dream, but he wasn't able to stir up any trouble so he ended up going home disappointed. And I have to say, it was kind of refreshing to see that the trouble didn't pan out as he had hoped.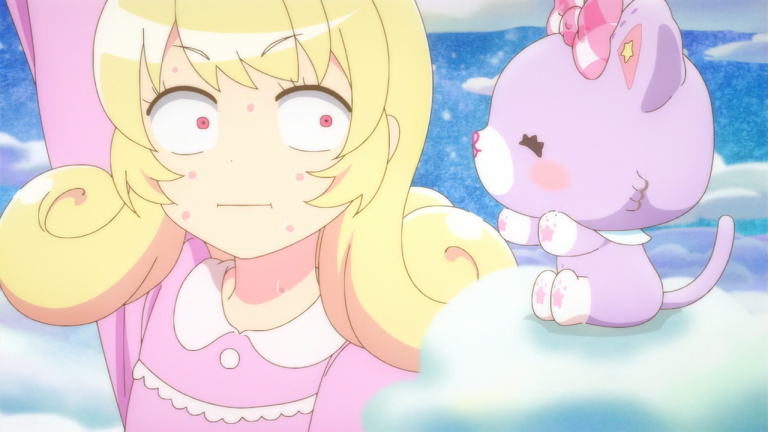 And finally the most important detail that came out of this episode: the Queen's quest to collect the dream stones.
However there was one big problem: They didn't actually explain anything. Frankly speaking I am astonished by how vague the mission is. Yume was only told two things today: 1) Mew must be kept a secret from everyone, and 2) "Fill the dreamy box with dream stones, and your wish will be granted!" and yet, they have neglected to tell us about why they need to collect them in the first place, and for what purpose they serve. Not being given a detailed explanation bothers me a bit. I guess a part of it has to do with it is generally wiser for the protagonist to have an idea what they are getting themselves into when they commit to the cause. Although things are looking incredibly lively and fluffy right now, with 48 episodes, there is plenty of room for a dark twist– but we'll see how this story plays out. 
Next episode we will be getting to know Maira a popular model, who had recently moved to town. Considering we didn't see the two of them interact at all today aside from being in the same class, I am looking forward to seeing how the two of them– perhaps Maira catches her running off after her hopes and dreams were crushed when she saw Haruto and a girl from the calligraphy club being seemingly intimate with each other. And since Asahi noticed she has a crush, I am curious to see how he will react to this development.
PS: All of Yume's expressions are amazing!