YOOOOOOOOO. This episode was a doozy! I mean we all knew Batetemoda is insane, but he was straight up terrifying today. To go on about ways of how he was could kill Latte, I mean, that was some dark stuff right there. The girls unfortunately had jinxed themselves when Hinata thought she could use psychokinesis with the intentions to ward off the Pathogerms long enough until Latte recovers from her cold. Batetemoda. who is already a huge ego to begin was delighted at the idea that someone was thinking about them and Shindoine hit the bullseye when she said it was precure, which only made him even more enthusiastic to return their "passion".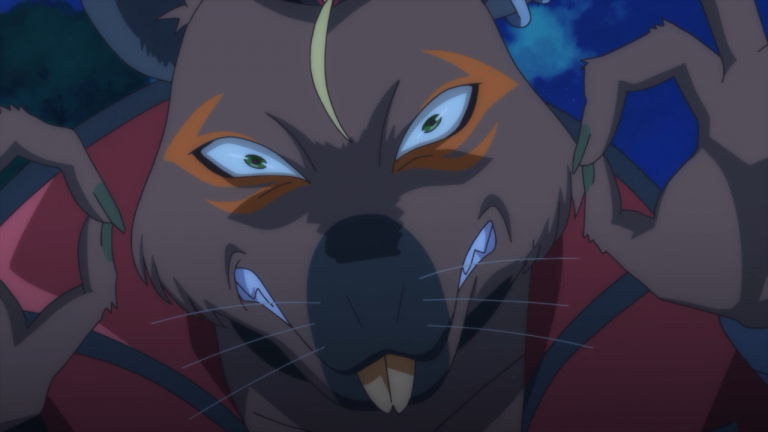 And the timing for it really couldn't have been worse. It wasn't just that Latte was sick and so she couldn't detect the birth of a Pathogerm, but he struck at night, giving him an abundance of time to corrupt the area. It wasn't until a hiker spotted the monster in the mountains and reported it that the girls became aware of its presence.
Frankly I am a bit surprised that there wasn't enough time to produce a new parasite, in fact that was my biggest concern with this monster. We haven't seen one fester as much as the one back in Episode 11, which I believe had less time to spread the disease than this one that had all night, but it is noticeably smaller compared to Daruizen's. So maybe, there are certain conditions that needs to be fulfilled before a Parasite is born, or maybe how quickly they can grow depends on the the individual General's strength. And since Batetemoda is still technically a new born, that may explain things.
Of course regardless of its size, since the Mega Pathogerm having already gained the kind of strength the girls had struggled with before, failing to heed each others warnings and acting out of desperation didn't help their situation at all. In the end, thanks to Latte's courage and determination to help them by putting her life on the line, the legendary precure came to their rescue.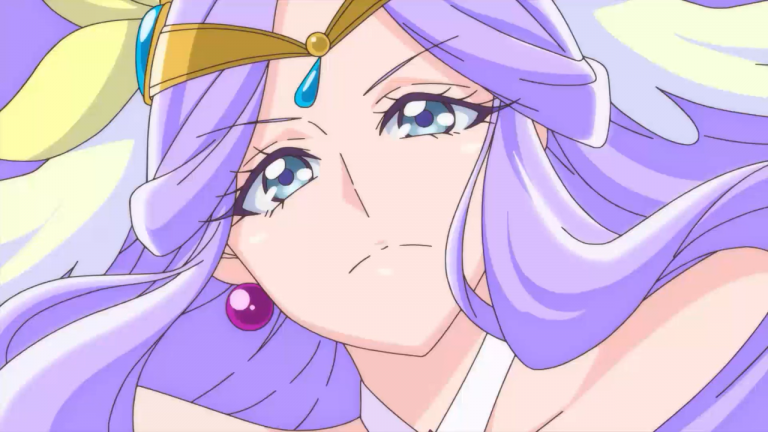 Now… I have to admit, I am feeling quite uneasy and unsure about what I think about this development. Coming into this episode, the one thing I absolutely did not want to see was Latte becoming a Precure because I am just so done with fairies turning into Precures. That's why I really like the concept of the partnership between the fairies and the girls. So naturally I figured Latte would eventually find a partner of her own. Then there was part where I had that train of thought from the previous episode's preview that left me with the impression we were going to see the Legendary Precure. Lo and behold, turns out she shows up in the present.
And she is probably be here to stay.
….I don't know I feel about that. I have a lot of concerns about it, and I feel like a lot things could go wrong unless they do it right. The two things that worry me the most are 1) her personality, because she would be a significant veteran at this, and 2) I would hate to see her overshadowing the girls because she's so strong… So there is a part of me hoping she is either not necessarily the legendary precure herself, or at least is a temporary partner until Latte finds her true partner. I mean it's not like she needs Latte to transform, she already can and she create an element bottle on her own! So there is that. The other and most obvious reason why I have my reservations about her potentially becoming a permanent addition to their team is that if she really is the same Legendary precure from the past, wouldn't that make her super over-powered? I mean yes, they would probably nerf her powers— but then again she solo'd this Mega Pathogerm today and left the girls delivered the finishing blow… She didn't have her harp on her so that's probably why. Yeah, just thinking about it isn't helping. It is too soon to say anything really.
Anyhow, we have to wait until next week to know for certain whether she is actually actually the same person who had partnership with Queen Teatinu. Yes they look exactly the same, but are they really the same person? On top of that, there is also a snippet in the preview that alludes to this girl actually being a fairy herself. If true, then that means she may have never been Human to begin with. So it's understandable why the girls and trainees alike are so bewildered by her miraculous appearance.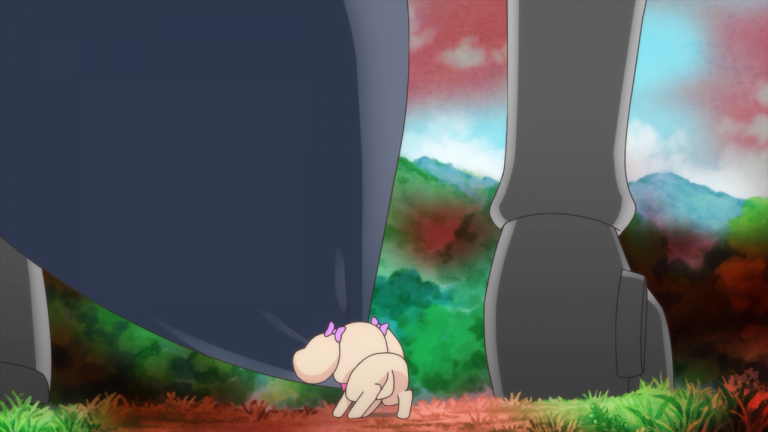 Overall, despite my uneasiness about the new Precure, her design is still super pretty and this episode was solid. It was great to see more of Latte's point of view, and I can understand why she struggled with feeling like she wasn't very useful and how she wished she could support them better in their fights. It was definitely hard to watch Latte get hit and beaten by the Pathogerm because she has such a small body and she was not in good condition to begin with. It was incredibly brave of her to go after the Mega-Pathogerm, I was quite terrified of her being squashed but instead the monster just lightly (though maybe not exactly due to weight, but at least wasn't a kick like Batemoda would have done if it were him!) cast her aside. She did get hurt, so luckily the new girl who saved them was able to heal her wounds (but not her cold, that's something she needs to overcome herself).
I will say though, and I think it's because I had just literally watched Heartcatch Precure like a day ago that the fight we saw today was kinda soft in blows compared to some of the strikes we have seen in the past episodes. There were a couple of times when I thought the intensity of the impact would be sharper, but some sequences when the girls were thrown into the ground didn't quite deliver that. I'm not really sure how to explain it, but it's not that big of a deal, this is merely just an observation, and it could just be me who thinks so.
Next week, looks like there will be yet another difficult fight for the girls to face, and the new girl is clearly not Human with the way she can fly out the window when she kidnaps Latte. As mentioned earlier, she may be a fairy so… yeah. We are going to have to wait any see what happens next.
Anyhow, let me know what you guys think because I am very curious to know what your thoughts are on the new girl.