No Mewkledreamy is not back on air, I am just super late and I'm so sorry about that! I had gotten completely mixed up with the dates and didn't realize episode 4 still aired. Thank you Williukea for asking me about it, otherwise I would have only noticed I had missed this episode when the show resumes on air! (And that would have been horrifying!) Anyways without further ado lets get started:
Yume and Maira were working together to recruit members for the Comedy Research Club, but so far they haven't had much luck. In fact Maira being open for her love for comedy is so jarring to her cutesy sweet image she had to maintain that some are even considering this whole thing to be a publicity stunt of a sorts. It's a bit disappointing in general how people think it doesn't match her- like who cares if it does. It's her passion, that's all that should matter. But image is everything in this kind of business, and we saw how Maira struggled with interviews to make sure she didn't reveal any of her true feelings and stuck to the script of the role she must play.
So it meant a lot to her to have a new friend and dreamy partner Peko (or Pekocchi as she wants to call him) who is eager to be a part of her comedic duo Nonfat Powdered Milk. Peko is very cute, but I was a bit disappointed that we didn't actually see him and Maira get powers of their own. In fact, the opposite happened: In order for Peko to speak to Maira, he needed Yume's and Mew's power to before he could. This leaves me wondering whether Maira and Peko, Kotoko (and whoever her dreamy partner is going to be), are ever going to form a magic pact of their own. There is a possibility that they won't be collecting the dream stones, and and if that were to be the case, I would like to know more of why Mew and Yume remains the special case. Mewkledreamy seems to have a different set of rules I am usually used to, so I am curious how this is going to play out.
As for the fight today, well actually I can't even call it a fight. All Yume had to do was turn around and basically delete the monster in one go. No further effort required. Yuni and his bunch's shenanigans are more of a nuisance than an actual conflict. And to be completley honest with you, I am not a fan of that.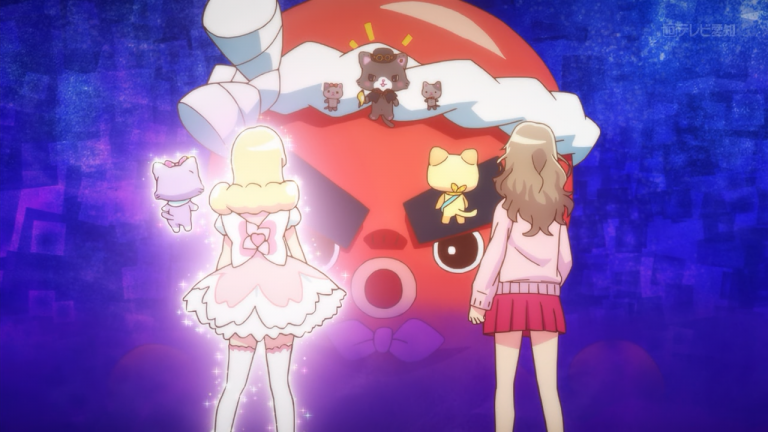 It's one thing to have super light-hearted confrontations, but come on, at least have it so it takes some effort to deal with the monster. All Yume did this episode was literally turn around and finished it in one go. Boring! Either I am just too spoiled by precure and other magical girl series, or I came into this show with the wrong idea of how they were going to go about it. I wouldn't be surprised if it's the latter. If that is the case, then obviously I will need to adjust to the way they are doing things. Needless to say it's far too early to judge. This show is going to have 48 episodes, and since it has been incredibly slow-paced right from the get go, it is important that I give it at least 8 – 10 episodes to get a better idea of what the series' objective is going to be beyond the collection of the dream stones.
On the brighter side of things, it was very nice to see Yume act normal around Haruto again. She didn't get caught up in her feelings and kind of just accepted now that there is something between him and Yuri and just letting it be. In the mean time, her attention is now with Maira and soon with Kotoko who we will be learning more when the show comes back on air.
STATUS: ON-HOLD DUE TO POSTPONEMENT

---
06.06.2020 – Status Update: Dropped
Reason: Although Mewkledreamy has finally resumed, unfortunately I will not be continuing the coverage. As much as I would have liked to give it a few more weeks (between ep 8 – 10 as I would traditionally try to do) to understand which direction the show will be going, after watching episode 5 and seeing the preview for episode 6, I realized this show isn't the right fit for me to write about. I will continue watching to see where the plot goes, but sadly this is the end of the line for my coverage on this show.