YGO ARC-V can finally be put to rest.
Final Impression
It's over, it's finally over. YGO ARC-V can finally be put to rest. I have covered this show for three years, and good lord, this poor show, did not deserve this crappy ending. This finale was making me cringe from start to finish, and my notes were so short, I had little to nothing to say. The one thing that was on my mind was, "I can't wait to rip this shit apart". And I will, but that will be featured in the Overall Review that is currently works in progress. Unfortunately I was not able to have it finished to immediately publish right after the final impression, but I am going to see if I can get done and release it tonight, or tomorrow by the end the day. Worst case scenario, it could come out as late as Thursday… But I honestly don't want to keep it that long because I know I am going to quickly lose the drive to write about it.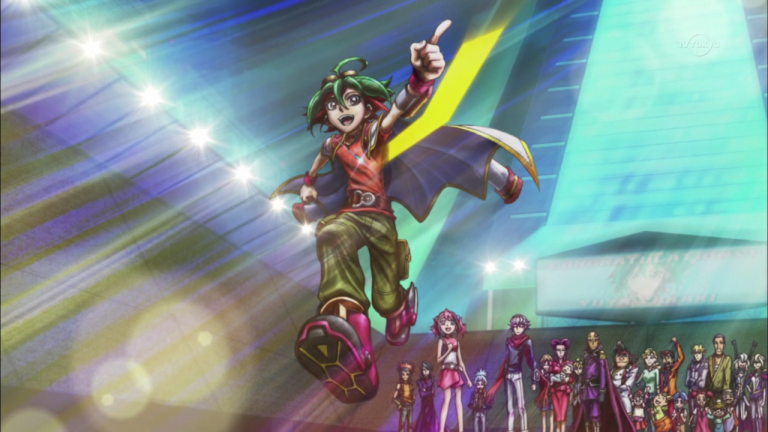 You know ARC-V ended in a pretty bad place when they didn't give the finale an hour special. The duel between Reiji and Yuuya was pretty awful and I couldn't bring myself to enjoy any of it. With baby Reira stupid giggles (that even sounded stupid), Yuzu being left to the very last moment to return, and not a word from Ruri, Rin or Selena. I mean, even the reunion itself was horrible. Like come on, you dont' think Yuuya and Yuzu wouldn't want to jump into each others arms and give each other a hug after all the shit they been through? They didn't even try. Welcome back was all we got until Yuushou showed up and – ugh, forget it. Let's just move on. It's not worth getting worked up about it.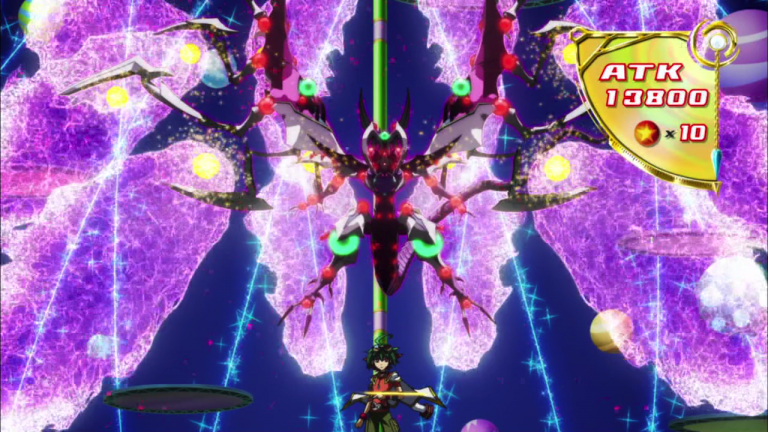 It's a real shame that the err, "Pure" versions (I guess) of the Supreme King Dragons only got to debut in the final episode. Missed opportunity. I also want to rip my hair out over the constant contradiction of Reira = Zarc when it makes NO FUCKING SENSE BECAUSE YUUYA + YUUGO + YUUTO + YUURI = ZARC. THEY EVEN SAY, "OH WE'RE ONE AGAIN" AND ALL THAT SHIT. YOU CAN'T HAVE BOTH, IT DOESN'T WORK THAT WAY. IT'S EITHER ONE OR THE OTHER. AND ONE IS NOT LIKE THE OTHER. And this is something I am going to be gnawing at in the Overall Review.
Anyways look forward to the Overall Review because it is going to be a lengthy one as I am currently at 2700+ Words and counting, and will also be done in a different format than how I usually do it. I am currently only 45% into it too, so there's A LOT more coming. So without further ado, I will provide you a preview with a portion that is done
SNEAK PEAK OF THE OVERALL REVIEW:
(Disclaimer: This portion may be tweaked or be different in final edition)
Final Judgement
In the end, Is ARC-V the new worst of the Yu-Gi-Oh! series franchise? It is up to you to make that call.
Despite the fact this series ended up as a train-wreck, I won't go as far as to say it is now the worst Yu-Gi-Oh! Series of all time. ARC-V started off on a very high note, the first fifty episodes were its strongest. At the time, I was convinced it was going to be my new favourite. And in a way, it is still close to it. It was only when they dragged out the Synchro Realm arc for far too long, and spent to little time in Heartland that was when it fell into disrepair. Even then, the worst of the series would only happen by Episode 130 and onwards (with a few exceptions).  Though the characters were unfairly treated, I for one, loved them dearly. It was because I saw them all brimming with untapped potential. They were a hidden gem waiting to be polished. For whatever reason, be it production woes, or poor choice of priority… in the end their potential were not realized. I think it is because of the promise this series held, dissuades me from claiming it to being the worst one of them all. Regardless of its horrendous flaws and abusive treatment it has received from the production team due to internal conflicts, and how it broke my heart… At the end of the day, I still love ARC-V. Not for its outcome, but for the characters and the the story of this series I had fallen in love with. Yuuya will always be my precious puppy, Yuzu will always be my queen, their respective counterparts will always be remembered for all that they could have been in my heart, the concept of the ZARC's fragments being divided into different realms, his dragons seeking out each other to make him whole again. Maybe, just maybe, had there been no production woes, ARC-V's true potential could have been realized and could have ended differently. In all, ARC-V is a show that will make you feel  the mixed emotions of happiness, sadness and frustration. It is up to you whether you wish to take that journey, to see all what it sincerely, could have been.
WELL, TIME TO MOVE ONTO YGO VRAIN. Let's hope that one will be good!!!