A/N: Only featuring Episode 116 Screenshots this time.
Well I gotta be honest with you, episode 115 was meh. I'm that type of viewer that needs some sassy quips or some juicy drama going on to make it exciting to watch, and damnit— Takeru's duels are not the same without Flame! The first bit was basically a replay of their last match-up, and then once they got started on the new stuff it became a bit more interesting.
As as for this week: Episode 116 was sooooooooo much better. There was something really satisfying about the way Ryoken kept on landing punch after punch after punch, and summoning his top guns with that hella badass monster Zeroboro. In the end, he lost— but that too was satisfying because we got to see him accomplish his goal. That isn't to say Takeru wasn't fun to watch either, I mean, besides the poor boy being pummelled until he was backed into a corner, he had a different thing going on: Struggling to move forward.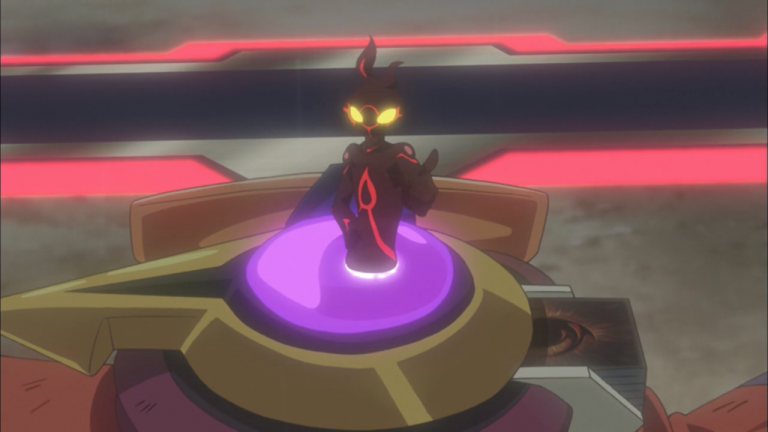 Oh gosh, the moment Takeru remembered Flame's words and thought about him, AHHHHHHH MY EMOTIONS! FLAME! I MISS YOU SO MUCH!!!! I LITTERALLY BURST INTO TEARS! It was beautiful for him to remember his wisdom, especially the part where he recognized very early on that all Ryoken was trying to was figure out a way to apologize to him. This duel, was his way of doing that. But most importantly, this wasn't just about helping Takeru move forward, it was able helping him let go of the past as well.
It was also really nice to see them elaborate more on the theme of death of our loved ones. The subject is something that hits close to home for everyone, especially for Ai. It's as Ryoken said, "those who are gone haven't completed vanished from your life, they just went ahead earlier.", and we saw that with the Flame's wisdom Takeru remembered today. However Ai seem to struggle a bit more with that spiritual ideology because of his and his friends' entity as A.I., and I can understand why. After-all, this kind of thing differs from person to person. Some believe there's a place for us to go or do after death, some think once we're dead, that's it, and etc.. (That latter is probably something Ai struggles with, so as long as he is unable to revive his friends).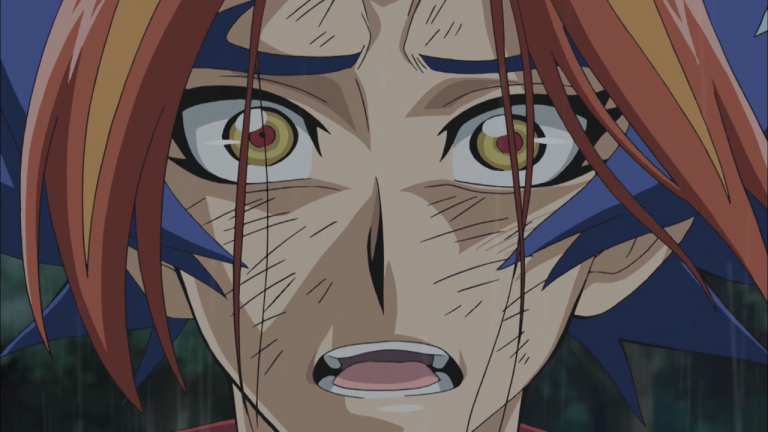 I also really liked that they finally dug a bit more into Takeru's unresolved regrets that had been haunting him alongside his trauma of the Lost Incident. Boy did it hurt like a bitch when Takeru finally revealed the pain of being unable to apologize to his parents for the horrible thing he had said to them on the day he was kidnapped. But while they still managed to pull my heart-strings, I wished they had dedicated more time to fleshing out Takeru's character leading up to this point.
Since Takeru has defeated him, as per agreement, Ryoken will have to back-off from dealing with Ai. Perhaps that was his hope all long, as he has been sending us all sorts of mixed signals. Seriously, he can be so difficult to read sometimes!
Next week: Looks like we are diving head-first into yet another duel, this time between ai And Yuusaku! It appears Ai has something to show up, and eeekkk, I fear it might be SOLtis soldiers of a sorts. I have also heard about the rumours of this series maybe ending sooner than expected, but it's pretty standard to hear the announcement and new series being worked on at this point, this is the last season after all. Nonetheless, I still expect to see at least 130 episodes.