…Where do I even begin? Shit hit the fan this week, and it was straight up terrifying to watch. Hell I even thought to myself, "I TAKE EVERYTHING BACK, I AM ACTUALLY GLAD AOI IS NOT HERE BECAUSE THIS IS SCARY!". It certainly didn't help that they were dropping those lines that more often than not jinxes the characters, so I was seriously concerned about Takeru's fate. The sheer intensity of the duel had me worrying whether or not Takeru was going to win this— and thank god he did! It's an understatement to say I was freaking out. I swear to god, Robopoppi's eyes are gonna give me nightmares. Not to mention, they made it extra creepy when Robopoppi's voice was alternating between her two tones!
Robopoppi went into Yandere-Mode and beyond, to the point that even Ai was horrified of what the robot had become. At that moment, it was made clear that this dark development was never part of Ai's plans, or rather: he never imagined his program would create this monster that became of Robopoppi. Everyone knew it was bad, but the worst part was when Robopoppi had gone haywire to the point he claimed he could defeat Ai himself— and that was when Robopoppi had crossed the line of no return. If he wasn't stopped then and there, the situation could have turned into a very dangerous one. It makes me wonder had Robopoppi been able to withstand the program and defeat Takeru, would have Ai intervened? Or would he have left it to Yuusaku? Sure, Yuusaku might have been able to handle it himself, but I would like to believe that Ai would have taken responsibility in some way to prevent Robopoppi from going on a rampage. After-all, it was his program that caused this problem in the first place, and I doubt Ai intends to create an horde of monsters, much less A.I. that would turn against him!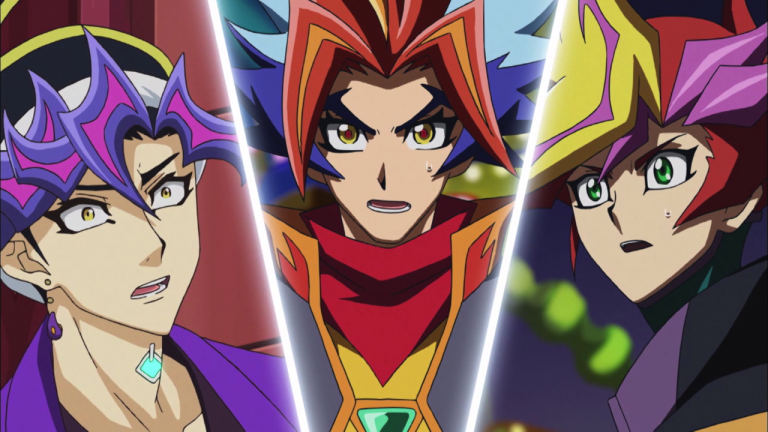 However, while it was good to see that Ai recognize that Robopoppi was trekking on a dangerous path, (especially since many of us are concerned he might turn into a scarier version of Lightning), that moment was quickly overshadowed with yet another reason to be concerned about Ai's mental state. Yes, what Ai did was cruel. He sent Robopoppi away, knowing he would likely be defeated, all to send a letter/invitation to Yuusaku. Yes, he acknowledged his actions and express remorse by grieving for Robopoppi (something we know someone like Lightning wouldn't have done). But what makes this incident so troubling, is how it yet another failure added to the list that is already consuming him whole.
Aside from streaks of revenge particularly against SOL Technology, we don't know what Ai intends to do with the corporations resources. But if he were hoping to recreate/revive his friends in some way through his own program, Robopoppi's twisted development definitely threw a wedge in his plans. We witnessed the consequences of A.I. who develop too quickly with "bodies" that are unable to safely handle his program, as well as the potential chaos that will follow if they are able to handle it and are not kept in check. Since Robopoppi's sole purpose was to clean, Ai's program ended up bricking his system, which means and involuntarily having a hand in his destruction.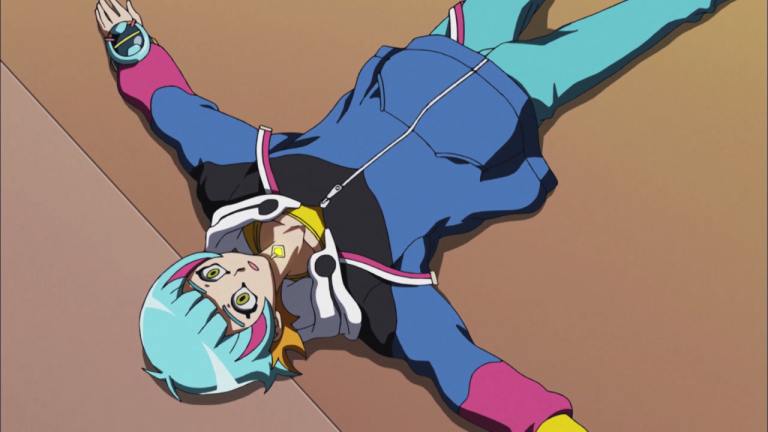 Despite how fucked up Yandere-Robopoppi was, his demise still broke my heart, for both Ai and Yuusaku. For Yuusaku, god his expression crushed me. Robopoppi was basically family to him, someone who would always sweetly greet him when he returned home and cared deeply about him. He knew that the robot was past saving and asked Takeru to end it quickly to put him out of his misery. For Ai, even though he took advantage of him, Robopoppi was still a friend, a fellow kin he had felt more comfortable interacting with than his Human comrades during this time of grief.
Next week, Takeru and Ryoken will be having their long awaited rematch. I'm glad it's going to be done sooner than later, but I wonder how Ryoken is going to go about this whole thing…
RIP Robopoppi