In this episode of Yu-Gi-Oh! SEVENS, they delivered us some more of the light-hearted comedy! I definitely don't mind this approach given that the humour is well put together and the characters are able to continuously shine in their own way.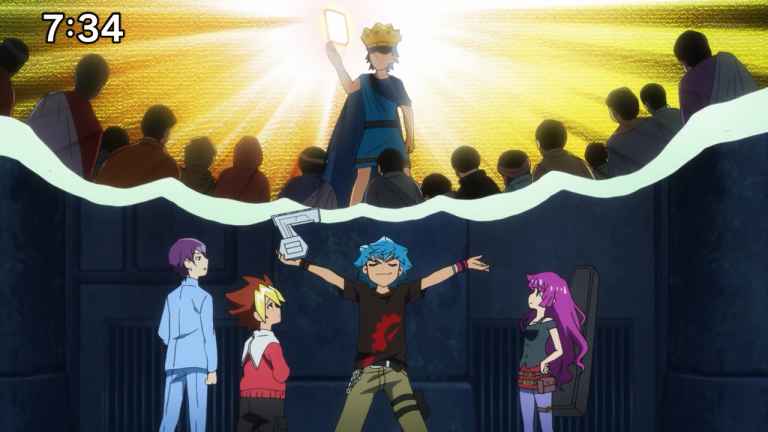 Today Rook was the one to take the spotlight, and he did not disappoint. He is an absolute goofball who appears to be the only one (at this time) who seems to even know about legend of the King of Duels (said to dictate the rules of the game and share them all around the world). So when Yuga offered to entrust him the opportunity to become the next Duel King in his steed, Rook readily took up the opportunity– quite litterally, as he walked towards the path only walk straight into a wall because it was a hologram. (Well to be fair, I too was duped into thinking it was going to lead them somewhere, haha!) The road to the title as the King of Duels is one they must discover on their own.
Rook also shared some backstory on how his powers of breaking machines came to be a year ago, but the lot were quick to brush it off by likening his abilities to the Pauli Effect. At this time, I don't think they actually believe he is possessed by a demon, but as for me, I say it's too soon to call. While we have been given visual hints that he really might have a demon within him, we still don't really know if it's the truth. One form of consistency we are seeing is that  Rook can at least choose when he wants to use his power, and he is also very aware of his limitations of only being able to use it two times a day. It should also be noted this would be the second time we see him use his power without actually touching the devices. So it highly probable that he does in-fact some kind of power, regardless if he is possessed by a demon or not. By the look of things, it is related to the watch, which we saw him take off and put in his pocket before they duelled. Nevertheless, whichever way they choose to go, the fact that nobody is taking it seriously will surely bring us loads of fun in the future.
Oh and the fact he used his power to get into places where he could duel adults and claimed he never lost (quite the contrary) is absolutely hysterical. But hey, I guess it paid off since it helped him since he had the chance to go against more experienced opponents, haha! What a passionate kid.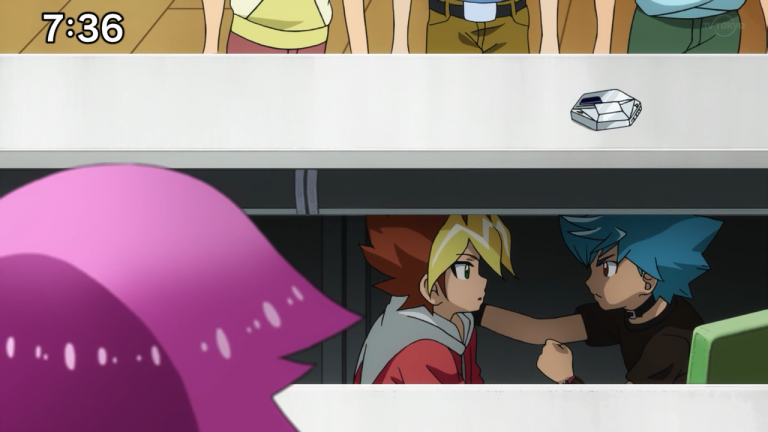 And I am loving this dynamic between Rook and Yuga. Rook has this idea in his head that by taking up the quest in his steed, Yuga serves more as his most trusted advisor. For most part, they have been more or less on the same page. The only thing they were at odds about (without causing a fuss) was whether to share or keep Rush Duels a secret. I can why Rook was imploring Yuga to keep Rush Duels a secret, even just for a little while. He is afraid of Goha Corp banning their accounts and removing what they just had implemented. However Yuga isn't particularly concerned about the consequences. He would rather publicize it so that as many people as possible can enjoy the game, and if it were to get removed, he insists he will find ways to reinstall it over and over again. It just goes to show where his heart is. (It was so cute to see him hijack the drone and tinker it to his likings haha! Yusei and Yuusaku would be proud.)
And that is a big reason why I have fallen in love with Yuga's character so quickly. As much as I love the mysterious and angsty leads like Yusei and Yuusaku, I am a big fan of cinnamon rolls like Yuuya and Yuga too.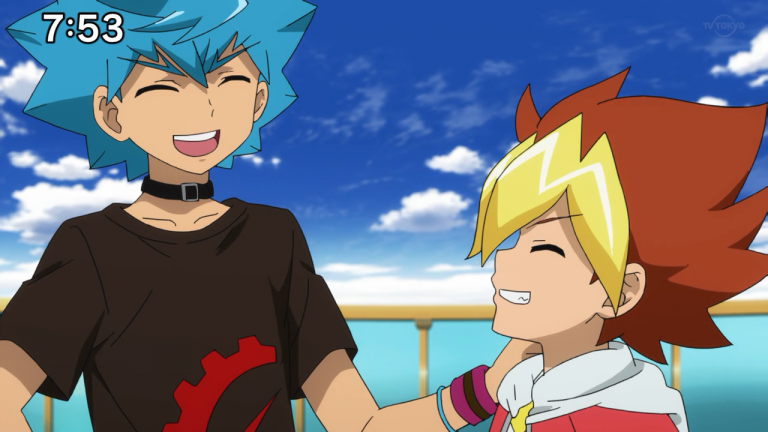 The duel between Yuga and Rook was also fun to watch, and it was nice to see Yuga lose because draw was not in his favour. A more realistic touch to the game since luck does play a role from the start, and today we saw that he didn't exactly start with the hand he was hoping for. It was funny how Rook thought he has lost on purpose though, especially since we all know that wasn't the case.
Gakuto and Romin took a backseat this episode, but I was glad to see that they didn't overplay Gakuto's dramatic reactions as they had last week. It is really important for them to do it in moderation, otherwise we will get sick and tired of him and that would suck. So this was a good sign! As for Romin, she didn't do anything particularly suspicious today, but rather she like the other two continued to interact with Yuga. She seems to have a lot fun with them, so I am looking forward to finding out more about her character. Luckily it looks like we will be learning at least one of her secrets next week, and it looks like we will get to see her duel too! I am looking forward to seeing how she rolls with it!
So far, Yu-Gi-Oh! SEVENS is off to a solid start, and I am excited to see what else it has in store for us!
PS: I absolutely love the OP Song. It's so cute and so much fun to listen to!