Flower of the Week: Dahlia
Today we take a look into the Heart of Erika's sister Momoka, who also happens to be a popular model. When they were young, their mother used to be a successful model and the sisters were inspired to follow her footsteps, but only one of them succeeded. Momoka began her career as a model after she was scouted in Elementary, while Erika was left in the dust of an unfulfilled dream.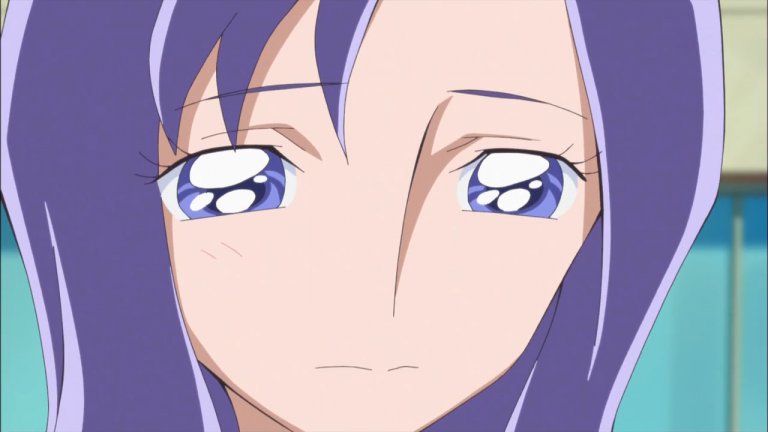 However being a popular model requires her to make a lot of sacrifices. It is because she is so busy with her jobs, Momoka no longer has a social life and is suffering from loneliness. So it makes sense why she is envious of Erika for her ordinary life and the friendships she has. But that isn't to say she isn't happy with her job. It can certainly be pain, but Momoka still considers it to be a rewarding experience. She is happy people acknowledges her hard work and get inspired to try on the clothes she wears and her hairstyles, that's what keeps her going.
Also, despite the struggle of making friends, it seems her dream isn't as far off as it seems. In fact I would say it's right under her nose with Yuri, a classmate who helps her with providing class notes and such she has missed. We didn't see the two of them talk, but it certainly felt like Yuri offered to keep her company by choosing to quietly reading a book next to her while she eats lunch. Also she looks really similar to Cure Moonlight but we won't talk about that yet.
Although this episode primarily focused on Momoka's internal pain, it also expanded more on Erika's frustration and jealousies that was expressed in the first episode. And it's really something a lot of us, including myself can relate to a lot. Being stuck in the shadow of your siblings and others is never a good feeling, it's suffocating and really eats away at your confidence.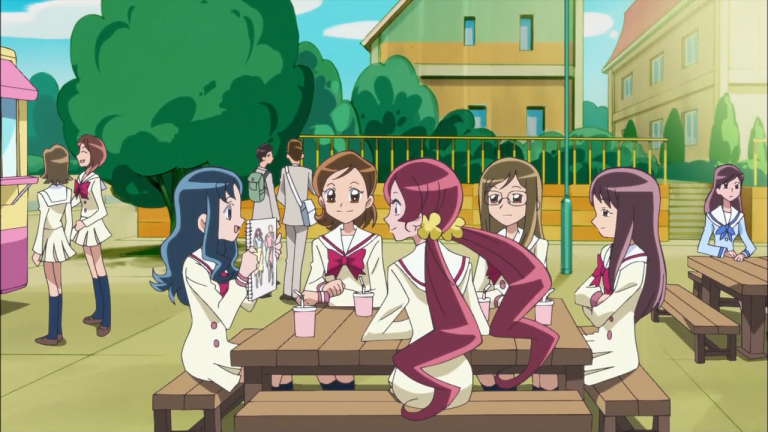 But while Erika's dreams of being a model has been dashed, there is still hope for her to be involved in the fashion industry in a different way, such as a designer. It seems though while she is comfortable with sharing her drawings with her friends, showing it off to her family who is involved in fashion is a lot more intimidating to her. She had a very pessimistic view of what her sister thought of her designs, when in reality, Momoka was actually impressed. It wasn't until later she was able to finally praise her for it since Erika had run away too afraid to hear her thoughts, but once she realized it was actually a positive response, she was quite flustered about it.
Last but not least, one of the things i really loved about this episode was seeing Tsubomi start using more magic attacks (Blossom Shower and Blossom Storm) that didn't involve physical engagement. In a way it kind of matches her better as she is clumsy and sometimes finds herself struggling to keep up compared to Erika who is extremely athletic. It was also super pretty to watch, haha!
Next week, the spotlight shifts to Tsubomi and her parents!