Damn, the Giga Pathogerms are no joke. The amount of area damage, and the sheer power was nothing to sneeze at. It didn't take it long to start blighting so much of the city and zoo. And not mention, it only took the girls a couple of direct hits, and the next thing you know, they were all knocked out of their precure form, including Asumi, which says a lot. It certainly had me internally screaming, "OH MY GOD!" But I think we can all agree, this is exactly what we needed to balance out the power gap between Asumi and the girls. This fight was also important for Asumi because it was the first time she really got to experience what it like to be overwhelmed by the power of her opponent, and the sense of hopelessness when the fight goes south. So now we finally get to see the original trio take the lead again, led by Nodoka no less, who was the right person to give them that morale boost of courage because she knows personally what it's like to be possessed by a Pathogerm. Thanks to their convictions to rescue their teacher and protect Earth, they were able to finally able to level up and obtain a new power thanks to the "Special Healin' Good Bottle".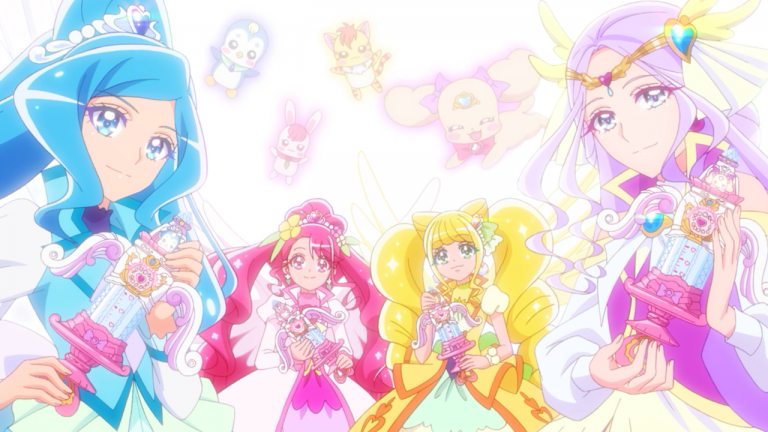 And I have to say, it is a pretty nifty power upgrade that provides the perfect antidote to Giga Pathogerms' area of damage. Shindoine was  understandably frustrated to see how all of the damage she has just inflicted was negated so quickly. Their new power also finds a way to include Latte into the weapon stash, something that has been left out since she has partnered up with Asumi. Although I have to say, I do find it quite funny to look at when they have that rotation clip despite all of them being in their own separate units.
Their new outfits are also especially lovely, I am a huge fan of their new wings, the extension of their dresses and robes, as well as the animation for Final Healin' Good Shower. But I was a bit surprised by how quickly they went through it. I actually thought it was a bit of a shame because they are so pretty to look at, but pragmatically speaking this was a smart decision since it was more important to focus on the story events rather than the visuals of their new evolution.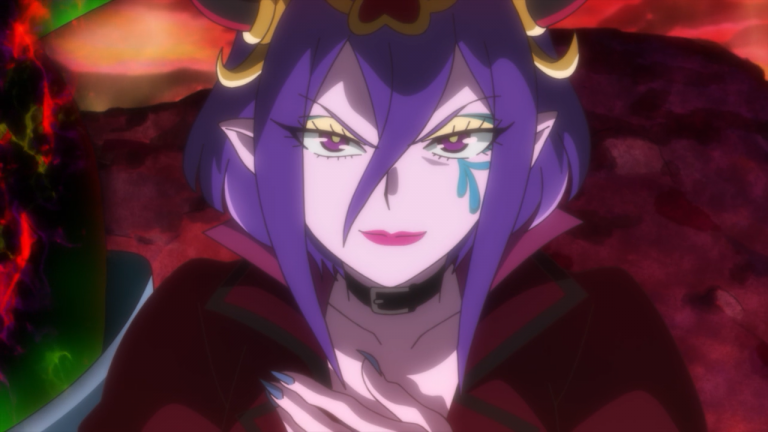 Although Shindoine's damage on the city was fortunately treated quickly, it does appear that the areas which were blighted lingered long enough to provide the King sufficient amount of energy needed to enact his revival. Queen Teatinu certainly alluded to his impending return, which will be very soon. I have noticed we are starting to see more fine details of his body, rather than just a smoggy cloud and glowing eyes in his close-ups. My estimate he will show up in two or three weeks. It does look appear the spotlight will be shifting to Shindoine as she has taken it upon herself to be responsible for the King's revival. If that's the case, then that leaves Daruizen and Guaiwaru to probably focus on harvesting more Mega parts, because they are their key ammunition against the Precures and the King himself will probably want to use them for himself as well. This also begs the question of whether we will see Daruizen and possible Guaiwaru look to find subjects to produce more Terra Pathogerms. While it explains at least Daruizen's origins, we have yet to see whether they will actually gain new Terra Pathogerms allies, who would hopefully not be cleansed in just a matter of hours after take their form. I have discussed about how it feels almost as though they are setting the stage of a crazy epic battle, but I also recognize I need to keep my expectations in check because my brain just goes wild from the sheer excitement whenever I think about things down the line.
All that said, the real question now is whether Daruizen and Guaiwaru will undergo their own respective evolution. Last week I gushed about how I wanted to see what they would look like in their evolved forms, but maybe we might not see that just yet. Both of them were surprised by her gutsy move, but they also seem to be exercising caution. It could be the two of them want to observe Shindoine first to ensure there are no side-effects that will cause problems for them down the line. But if they do decide to evolve, it will be interesting to see how long either one of them puts it off, and who will be the last one to do it.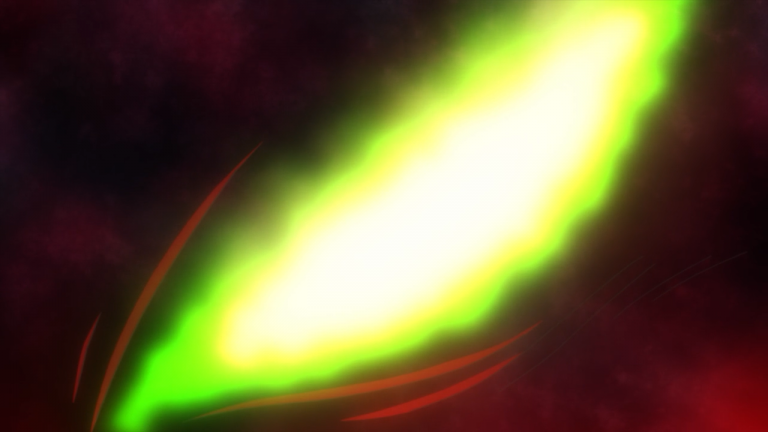 As for the Pathogerm King, we got to see a bit more of his personality- so to speak. I don't know about you, but he gave me an bit of an eerie and uncomfortable impression. I am not sure how to describe it. There were two instances that gave me this vibe. The first was when Shindoine wasn't sure for a second if she provided strong enough results to satisfy the King, and the second is that pause before he acknowledged her loyalty will help him.
And gosh, Shindoine is so delusional to think he said he loves her. Heck we still don't know why she is so infatuated with him in the first place! A part of me wonder if Shindoine and Guaiwaru were born from Humans hosts too, then perhaps what we are seeing are them inheriting their insecurities. Guaiwaru has left me with the impression his host might have been an office worker who was hungry for success and promotion, while Shindoine is someone who happens to be "love sick". I'm not really sure what Daruizen's case would be, he can be tricky to read and he hasn't been pushed into a corner like Guaiwaru and Shindoine have, where they felt the urgent need to make gains. Nevertheless, this is just among one of the theories that have been floating around in my head, so as per usual, take it with a grain of salt.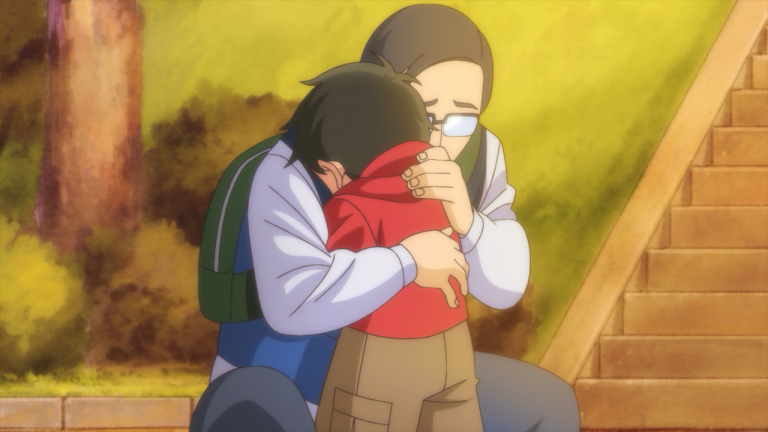 Overall I thought this was a fantastic episode. Humans being the target is nothing new for the Precure series, but for in this one, this was a first for both the girls and the Healing Animals. They were expecting to find an element, but instead it was their teacher. But perhaps because Humans were not the victims right from the start that when Kota's father was turned into a monster right before his eyes, it ended up having a much stronger impact on the audience. And man, I really felt for the kid. Seeing Kota all alone, hiding in the bushes in tears and then cry about how a monster ate his father. Gosh that made my eyes all watery. Talk about a freaking traumatic event. I almost cried when the two of them reunited. Poor guy must have been startled to find himself in the middle of the streets far away from the zoo. Sheesh, the girls should have at the very least dropped him off back to the zoo! I am legitimately surprised that they didn't. Surely Asumi would have been strong enough to carry him! (BUT MOST IMPORTANTLY: WHERE WERE THE WORKERS?! HOW COULD THEY LEAVE THE ENTIRE PLACE EMPTY?! POOR KID AND ANIMALS ARE ALL BY THEMSELVES!!!! But whatever…Let's just roll with it.)
But I have to admit, there were parts of the fight that kind of felt rushed. Or maybe I just didn't want it to end because I was enjoying it so much. Yeah that might be it. Seeing how many episodes are left makes me a bit sad because I'm not ready for this show to end yet. I think this would probably be the first time I wished there would be a second season to continue this installment of the precure series. Of course dragging things out and sequels don't always provide the best results, but I am so invested in this show that it kind of breaks my heart knowing it's going to end soon, ahaha… And besides, it has been a longggggggggggggg time since we have seen a direct sequel. I think the last one, to my memory was what, Yes! Pretty Cure 5? Gosh, how many years has it been since I watched that one? Anyways that's just how I feel right now. I needed to get it off my chest because my heart felt like it was going to burst if I didn't!
Next week, it is job experience day and the girls will be helping out at Chiyu's family inn and her little brother Toki too! We can all recall how the kid got outdone by Pegi last time, so I'm looking forward to seeing how he will fare this time. Looks like he is going to have a bit of a rough time though. Hang in there kid!
---
Extra Note: Heartcatch Precure episode 29 & 30 will be released as a double-post next week!