Intro: An alternative story based on the events that transpired after Finis' route in the previous game, Future Blessings.
After Lupin's sorely disappointing route, Van's story was exactly the kind of fluff and proactivity I had hoped for. There were so many heart fluttering moments, my favourite had to be with Van helping Cardia knit the gifts while adding his own unique twists (fufufu, never change Van). Thank goodness there was a CG of that, because it would have been criminal not to. I also liked how they really didn't waste any time getting involved with too many other characters, allowing Cardia and Van to maximize their time together. It helped with both Cardia and Van being so aware of their feelings for each other, that they were proactive about it. It also helped there was little to no distractions that would eat up their cherished one on one time.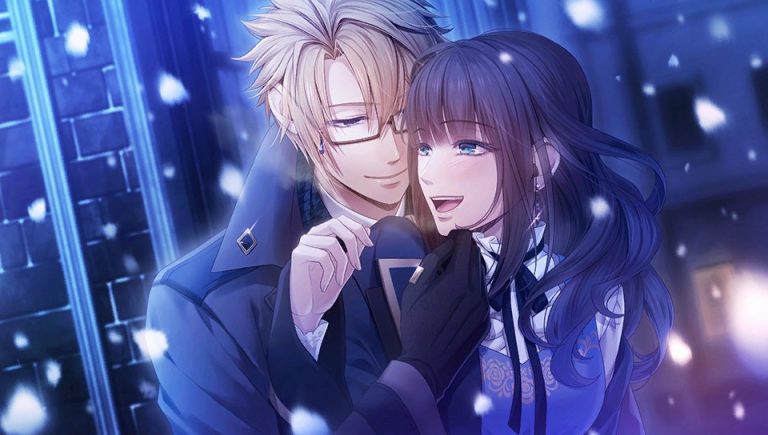 While they cheated us out with no kiss CG (like COME ONNNNNNNN~ That's so unfair! Van was already lacking intimate CGs to begin with, and then they had the nerve to fade into white and tell us about it!) At least we got the coat cuddles CG, which I absolutely adored and wanted to see happen! I mean, wow! Cardia actually made him a leather coat, that's some impressive work and a special gift.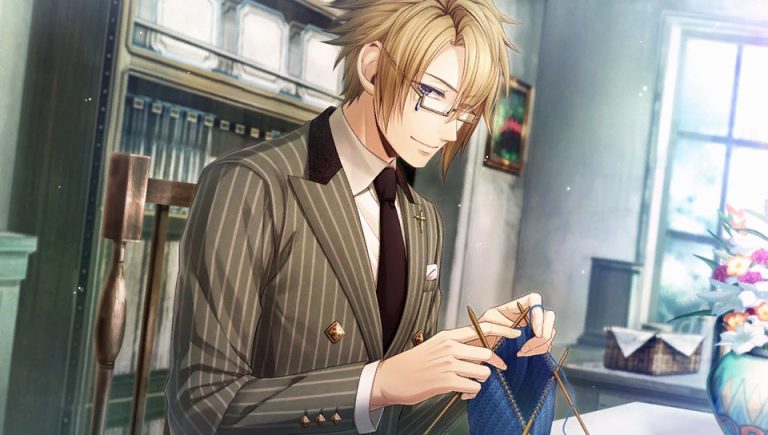 I was also super happy with how Van had some of the sweetest scenes of the entire game. I loved seeing this soft and affectionate side of Van, willing to wait in the cold (with Delly) until dark in hopes they will catch them returning to the mansion, or helping her finish knitting the gifts for everyone, and taking a stroll around town together. I was so engrossed with their conversations and interactions that I didn't notice the battery had ran low until the system shut off on me! I would definitely say I enjoyed Van's post-game story in this game more than I did in Future Blessings. I always knew he was a softie, and this is the side of him I really wanted to see more of, and I'm glad that even though this in taking place in an alternative universe, we were still able to get it.
I also liked how they really didn't waste any time in this route. It helped having Cardia and Van be so aware of their feelings for each other, that even while they were trying to skirt around the issue, their feelings were strong enough to shine through. Best of all, it was great to see Cardia be proactive as she had in the main game, making sure she didn't miss her opportunity to confront him about her feelings once she knew what they were.
Another bit I loved was Delly's and Van's bromance. Seriously, it gives me life to see these two happy together, and Van being that father/brother figure as he looks out for the Vampire King. I was greatly entertained by Delly so bluntly pointing out Van's feelings for Cardia. He certainly played a part in forcing him to confront it. Credit also needs to be given to Finis, who took the initiative to speak with Van when the opportunity presented itself, and offer his support by letting him know how much Cardia cares about him, how he wants her to be happy, and how he hopes he would be able to grant her wish. His friendship with Delly is also something to be appreciated, I am always amused by Delly's antics.
Final Verdict: 4/5
From start to finish, this was a squee-worthy route. The only reason I am not giving it a perfect score is because of their decision to leave out a kiss CG (I can't be the only one salty about that. Van is my second favourite guy of the lot, I want him to get all the love he can get). I am also feeling iffy about how the truth of who murdered his family never came to light, especially when Aleister did appear, and Van and Finis made amends of a sort with each other. I suppose it shouldn't really been seen as a big deal, because had Van learned the truth, well surely the angst would have settled in. That isn't to say I didn't like how Van was able to let go of his hatred towards Finis, and his revenge without knowing what really happened. In fact I loved it a lot because we witnessed Van overcome it through other means, and Delly was able to help him do that by sharing how he was able to let go of his grudge against Van, and become close to him again.
Although it's a bit of a shame that these stories are set in the alternative universe following Finis' ending in Future Blessings, at the very least, it gave us the much needed fluff I had been hoping for to follow up with.
Read More Van Helsing Reviews
➛ Code: Realize ~Guardian of Rebirth~ Abraham Van Helsing Review
➛ Code: Realize ~Future Blessings~ Abraham Van Helsing Review
---
Read More Code:Realize Wintertide Reviews
➛ Code: Realize ~Wintertide Miracles~ Alternative Story: First Christmas – Arsène Lupin Review
➛ Code: Realize ~Wintertide Miracles~ Alternative Story: First Christmas – Victor Frankenstein Review
➛ Code: Realize ~Wintertide Miracles~Alternative Story: First Christmas –  Impey Barbicane Review
➛ Code: Realize ~Wintertide Miracles~ Alternative Story: First Christmas – Saint-Germain Review
➛ Code: Realize ~Wintertide Miracles~Epilogue: Finis Review
➛ Code: Realize ~Wintertide Miracles~Epilogue: Sholmes Review
➛ Code: Realize ~Wintertide Miracles~ Cantarella Review
➛ Code: Realize ~Wintertide Miracles~ Special Epilogue Review