We did it everyone! We've made it to the half way point! And wow, what a great new episode for us to jump back in to. And so begins the true road to the inter-high.
As much as I grew to love the previous two openings and endings, I think they did a fantastic job this time around. I really like the art direct that that decided to go with and having flashbacks for each of the characters? I definitely got a little bit emotional watching it. It really made me realize just how much Sora and his team have gone through to even make it to this stage of the game. We're all pretty aware of the struggles Sora has had to go through to even play Basketball, but I had honestly forgotten quite a bit about Kite's story before we got to see his background in the opening! He's really the only one that hasn't had the chance for flashbacks when he's on the court.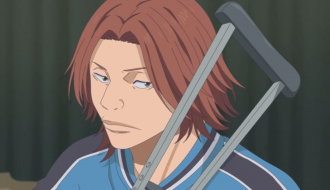 This episode dives right in to the prelims for the Inter-High, truly a winner takes all tournament. Unlike previous games our team has played, the stakes are incredibly high. This time just proving themselves to each other won't be enough. Should they lose any of these match ups, their dreams of the Inter-High are over. And yet, that's the story for every single team in the tournament. Everyone has been training as hard as they can and now it's finally their chance to show everyone what they are made of. Now, usually by this point, I'm all in and ready for our team to overcome all their challenges and beat the other team. But… in the short amount of time that they were introduced I… also want to cheer for Shinjo. They are also an underdog team! You know? A couple years ago they were only a two member team playing 1-on-1s with each other and now they've finally gained the man power to even compete for the Inter-High? And one of the founding members is injured? Ah man, this is going to be tough!
But on that note I think this is going to be a really engaging match, because I want to cheer for both of the teams competing. So where our team succeeds I'll be really excited, but still feel bad for Shinjo and vice versa. I really do appreciate Shinjo's captain making a comment about how everyone wants to go to the Inter-High, because it really puts into perspective that while we've only been watching our gang of delinquents work and build up their skills, all these other schools have been working their hardest as well. And for someone to acknowledge that? I think that's really important. It's generally implied in other anime, but hearing it out-loud is really refreshing. And immediately once Sora and the gang step on the court it seems like everyone starts to disregard them because they are full of misfits and delinquents. Yes! Half their team didn't start playing basketball until very, very recently and another good portion played at one point, abandoned the sport, and came back. Kite and Sora have consistently played basketball (I mean! It shows, the team ultimately is built around those two!). But! They're misfits who want to win!!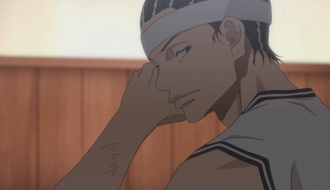 Unfortunately, all the drive and passion of our team members doesn't really come through in the starting seconds of their match. Perhaps it's their lack of sleep from the night before (but lets be honest, that was totally relatable) or genuine just the nerves due to the stakes of the game. So much for starting out on their best foot. But dang. Kite comes in and immediately reminds us all just how cool he is. As much as Sora is the focus of the team, Kite really is the anchor even if he's a jerk about it.
Overall, I'm absolutely hyped for the next episode and really excited for this next cour! It seems like we have a lot of exciting and intense matches coming up and I can't wait!