This week was a pretty mellow episode, but a nice one nonetheless with putting the spotlight on Chiyu and her adorable little brother Toji. We have seen a bit of him here and there, but today we finally got see more about his struggle of doing his part of taking care of the family's inn and their guests. He and the girls all got a work experience day, Toji tried very hard but felt like his efforts weren't paying off. Pegitan who originally perceived him as his rival (since he wanted to help out too) saw his struggles and knew the kid needed some support. It was very sweet and smart of him to ask Asumi to pass on his message of encouragement to Toji, because it was something he really needed to hear.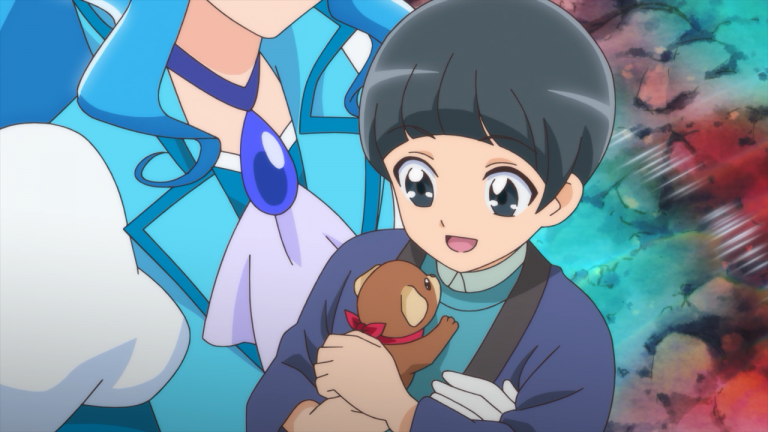 In the moment when Toji felt like a failure, Pegitan recognized his strength, and that is his hardworking and kind heart. We saw more of that when Toji ran after the loose puppy in front of the Giga Pathogerm. Chiyu admitted that she didn't notice Toji's struggle, and took it as a learning experience to be a bit more consideration to him when he makes mistakes. And it wasn't that she was harsh with him to begin with, I would say she was stern about it in a fair way. But the two are still on good terms, and it was very sweet when she praised him for looking out for the puppy. It is a bit of a shame we don't get to see them interact some more because it is very cute. And if I may add, it was very amusing to see how quickly Hinata sided up with Toji about not being able to do as well as their older siblings. It's nice to have a character who can relate to that struggle in a very earnest way.
What was surprising however was seeing how Guaiwaru's Giga Pathogerm fared in comparison to Shindoine's. Apart from the fact it obviously was not around for as long as Shindoine's was, maybe it was just me, but it definitely felt significantly weaker. This could mean that Guaiwaru is weaker than Shindoine, and this may actually end up serving as the catalyst to push him into the idea of absorbing multiple fragments. I think we can all agree there is a strong possibility that one of them will do this, and when they do, there will probably be some serious consequences. I also find it quite ominous how they keep on talking about how it is still risky to do absorb the Mega Part. But honestly, I'm growing more and more about the King's intentions, because gah, I dread the possibility that he's pressuring them so he can absorb them for his own gain.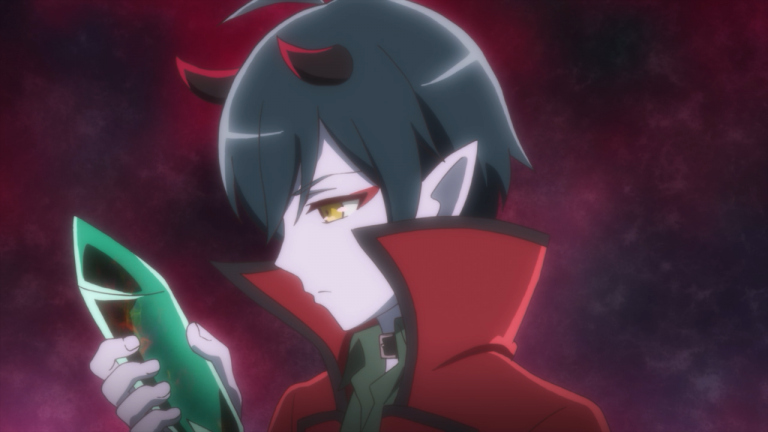 And speaking of which, when the King pressured Guaiwaru and Daruizen to undergo their own evolution, while Guaiwaru didn't hesitate to do it (and now he looks like a Metal band member LOL), Daruizen didn't look too enthusiastic about it. He definitely doesn't trust the process yet, and is probably uncertain whether they will have to pay the price for obtaining greater power. That is also why I am very concerned about what might happen to Daruizen because the preview was quick to show us that next week he will be next to evolve. We will have to wait and see whether he was forced into it by the King (which would be an interesting take), or something triggered him to do so. I think it can go either way, but considering the circumstances with Nodoka having a reunion with her family doctor, I am inclined to believe Daruizen may be triggered into doing it. Usually he is pretty cool under-fire, so this would be the first time we are seeing act so emotional and appears even frustrated. It makes me wonder how this fight is going to unfold between them because it does look like Nodoka is holding up well, unless it were to be before his evolution. Nevertheless, it is going to be an exciting one, but it also makes me nervous for him since unlike Shindoine and Guaiwaru, Daruizen no longer stands passively on the sidelines and I don't want to see him disappear anytime soon.
On top of that, the preview also suggests we will be learning more about her past in the hospital, this means we might get some more insight on Daurizen's perspective of things as well because I am hungry for more of their story!
ASDHJAJSKDHASDASD AH JEEZ! The next episode can't come soon enough!!!!