First Impression
It's time to kick off Tropical Rouge with Manatsu, an energetic girl who is leaving her small town island to live with mother who works in the city. She is very cute, but boy is she loud. But I'll give her some time to mellow out as she settle into the city life. After-all, I can understand why she is overflowing with excitement about finally experiencing the bustling city life. There are certainly more things to do, such as more club activities to choose from, a more diverse group of people who aren't strictly limited to your hometown, fun places to eat, those kinds of things. I totally get it. There's a lot to look forward to.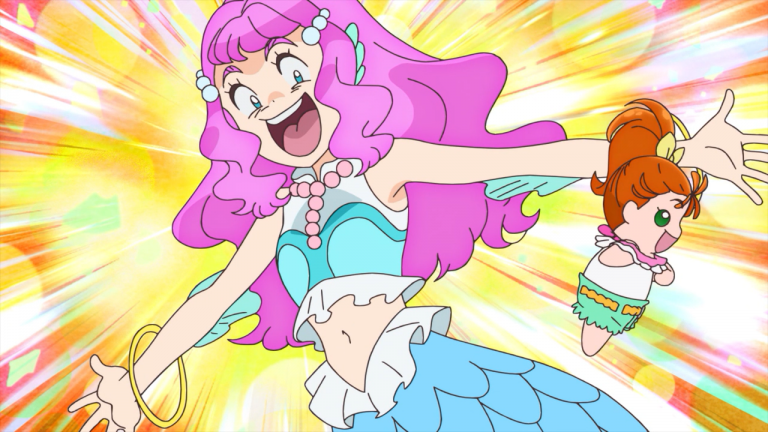 Then we have the mermaid Laura, who is dreams to become Queen. She has been tasked with the responsibility to find the legendary Precures to help save her home from the Witch of Delay (which I'm assuming is supposed to refer to procrastination) and her goons. She has been entrusted to deliver the compact to the Precure who has the key to open it. While she doesn't appear to have her own right now, I suspect somewhere down the line, we will probably see Laura become the blue Precure that is missing from the lineup.
Compared to Manatsu, I did find Laura's character to be a bit more interesting just because of her selfish endeavors. The one memorable line that did manage to get a chuckle out of me was when Laura said the Human children are just sacrificial pawns for her path to queendom. She is quite hungry for the crown, which makes it her primary source of motivation to carry out this task.
As for the antagonists, when they were introduced to us I thought it was kind of weird. Supposedly they are all about depriving people of their motivation. So if they are supposed to be all about procrastination, then I just don't see how they are supposed to make any significant progress in achieving their goals. Perhaps it's just the Witch herself who is like this, because the goon who showed up today didn't come across as lazy, but rather someone who is tasked with stealing away people's motivation for the sake of empowering their leader to complete her grand scheme. I don't know, it's too early to say, so I'll have to wait for them to clear that up in the coming episodes.
That said, I gotta be honest with you guys, if it wasn't obvious already the premiere didn't exactly click with me. I thought it was okay. Sure it has cute and bright characters, but sadly I didn't find their jokes to be particularly funny, and neither of the characters were able to really appeal to me, which is a bit disappointing. I feel like I might like the purple girl we saw at the shop though! I don't know, there's something really cute about her that appeals to me.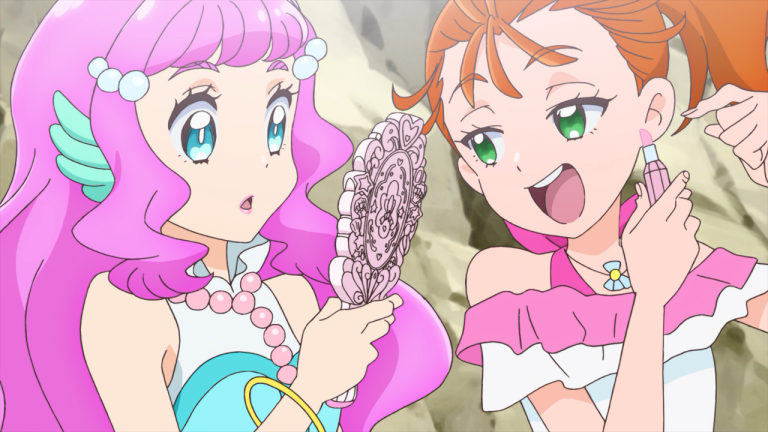 But the one thing that bothers me the most right now is how I can't understand how motivation and cosmetics work are supposed to come together for this. Maybe it's just me, but I find this combination to be incredibly bizarre. How does makeup contribute to motivation? Is it supposed to be related to effort? Are they trying to say it will boost your confidence? I'm not sure, but I thought it was super weird how Manatsu's idea of combating loneliness and uneasiness in a new place is to use makeup. Not only did it feel totally out of place and didn't match the situation, but you know how it sounded to me? A sale's person trying to sell a product– and that's exactly what they are trying to do right now. They were pitching the product to the viewers and they weren't subtle about it by the slightest. It really threw me off. I sure hope they don't continue this kind of approach throughout the series, because that's when it'll become irritating to watch. Try to be a bit more discreet and natural about it, thanks.
Traditionally, I give Precure ten episodes to get a feel of the direction its going, but after this premiere, I found myself conflicted about whether I should try covering it for a bit or just opt out from it altogether. After thinking about it, I decided it would be in my best interest just to opt out. My gut tells me that Tropical Rouge is going to be one of those type of series that is tough for me to cover. As I have said before, comedies are very difficult for me to write about, and recently I stopped covering one I really like (YGO SEVENS) because of that. So this time I would rather just sit back and watch to see if it'll eventually grow on me.
On the bright side, this will allow me to shift my focus to finishing up Heartcatch's coverage. We have seven episodes left, so once my schedule clears up (which should be in the next week or two) I should be able to get it done quickly.
After that, if I am feeling up to it, maybe I'll pick up another old Precure title to cover in this series' steed, but I'm not opposed to taking a break from the series either. However if I decide I want to do it, I would like to try covering another older title, mainly the ones I haven't watched and I can't remember if I ever finished. Let me know which one you'd like to see covered, and of course I'd love to know how you felt about Tropical Rouge's premiere!
Possibility of Blogging: No
Possibility of Watching: Moderate – I'll give it a couple of episodes to see if it'll grow on me.