This week Aoi has him do a dry run of the date with Fuka. With how much she is pressing Fumiya to make sure he starts dating Fuka by the end of the summer, a part of me wonders if it's because she likes playing the game cupid. It's hard to say, but that might be the side of me that is trying to justify her insistence on it, because Fuka shouldn't been perceived as an objective he must complete, but someone Fumiya actually wants to date. Knowing his principles, I trust he would stick with that regardless of what Aoi may say. If he needs more time beyond the summer to see if he wants to date Fuka, so be it. There's no need to rush into it.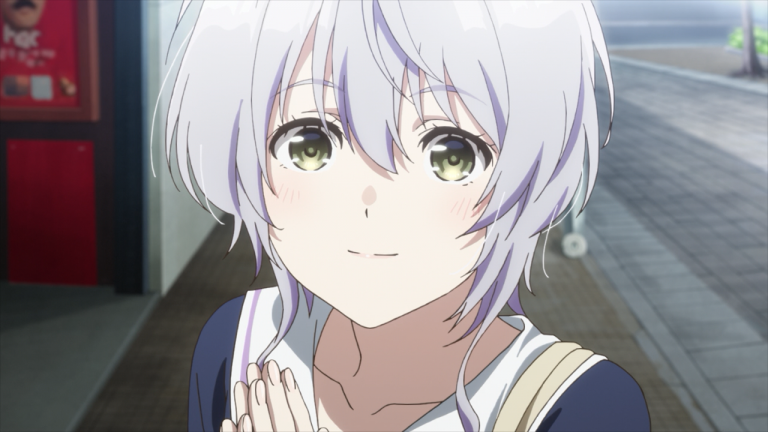 That said, I wished we had the chance to see more of the date between Fuka and Fumiya, mainly because I absolutely adore the girl and I think she's absolutely lovely. I think Fumiya could really take Takahiro's advice of just loosening up and enjoying life beyond playing to beat it. A good example of that was when Fumiya was worried he was talking too much about the movie (a reasonable concern, I know I tend to babble too much when I get excited too), but I think Fuka actually enjoyed hearing him gush about it since she finally befriended someone who enjoys Andi's books too. However she did give Fumiya a little reason to kick himself when she said sometimes he can be hard to talk to. Luckily before they parted ways, she cleared up that slight misunderstanding by explaining she meant it as a good thing because she normally has a difficult time talking to boys, and being able to speak to him comfortably is very precious to her. (Awww!) So now the two are back on the same page, and Fumiya's confidence was able to recover from that initial hit. Better yet, she asked him if they could hang out again, and with Aoi's guidance, another hangout has been arranged for the Toda Fireworks on the 6th.
Though maybe it's just me, but while I am excited for the fireworks show date, there is a part of me that is a little worried something might come up to spoil it. So far everything has been relatively smooth sailings, so I kind of have a hard time believing this summer vacation is going to go by without an incident of a sorts. That's why it feels like there may be a quiet storm brewing in the horizons, and we might just see that blow in during the overnight BBQ that takes place right before the Toda Fireworks show.
While this story has continued to surprise me with the lack of drama (which I love, because it's a refreshing change of pace), it does feel like the BBQ is the perfect place for drama to be had. Aoi, Takahiro and Mimimi had arranged this in hopes to help Yuzu and Shuji finally get together. Fumiya has been invited by Aoi to tag along, and while he is uncertain about the overnight part, I do think he'll try to stick around for it – unless something were to happen.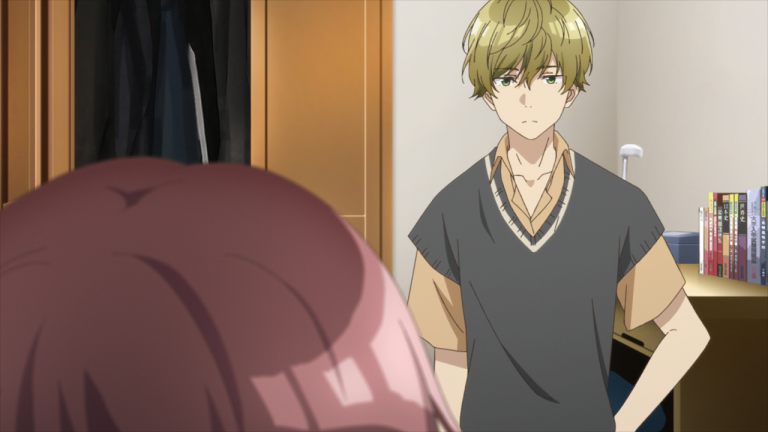 Then there is the suspected crush Takahiro may have on Aoi. This has neither been confirmed or debunked yet, but his actions and how he appeals to Aoi's tastes does leave me with the impression he likes her. So it makes me wonder if perhaps he might try making a move of his own at the BBQ. It doesn't necessarily mean he would confess to her per say, but I could see him potentially confronting Aoi about how she feels about Fumiya. Today we saw him quietly observing Aoi. He is a smart guy, so I suspect he already knows (besides the fact she kind of gave herself away with her interest in Fumiya's retired controllers set) she is a gamer too, and is curious about how her relationship with Fumiya had suddenly formed.  But who knows, he might just stay quiet and observe for a bit longer.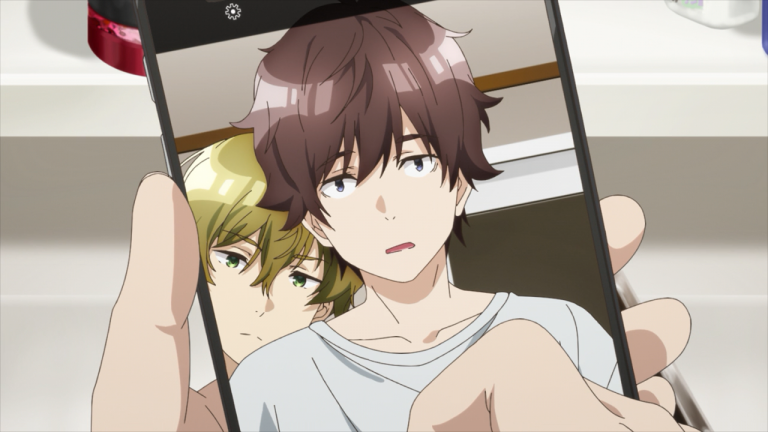 On the bright side, it was nice to Takahiro and Fumiya have some time to talk. I have mentioned before how I couldn't help but be on guard about the guy, but after this episode, he convinced me that he at least seems genuinely intrigued by Fumiya's determination to do things so earnestly. He helped him out with teaching him how to use the hair wax again, this time Fumiya wisely asking if he could film for reference. They are also now on the first name basis, thanks to Takahiro's initiative, so that's good to see!
Next time is the big BBQ hangout, I wonder how it's going to play out for Yuzu and Shuji hahaha. What kind of shenanigans will they have in store for the two and will this be a fun and memorable expirence, or will it be swept up by a storm?
PS: WHY DOES THE FOOD HAVE TO LOOK SO DAMN GOOD IN THIS SHOW!!!! Man I want it eat it all!